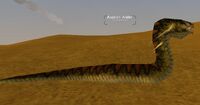 Information
Edit
Information on Snakes
Aggressiveness
Edit
This creature does not usually attack on sight.
Frequency
Edit
This creature is not often seen, except on Starter Island and in some particular areas of the wilds.
This creature is a medium size normally, however in the form of a Mob Boss, is large.
Often seen on Starter Island and in the wild on the mainlands.
Ad blocker interference detected!
Wikia is a free-to-use site that makes money from advertising. We have a modified experience for viewers using ad blockers

Wikia is not accessible if you've made further modifications. Remove the custom ad blocker rule(s) and the page will load as expected.